Safe Transport of Dangerous Goods by Air
With more than 1.25 million dangerous goods being shipped by air each year, shipping dangerous goods safely is a leading concern. There is a great deal of information to consider when shipping dangerous goods, but there are also specific steps you can take to transport dangerous goods by air more safely.
How Are Dangerous Goods Different from Other Types of Cargo?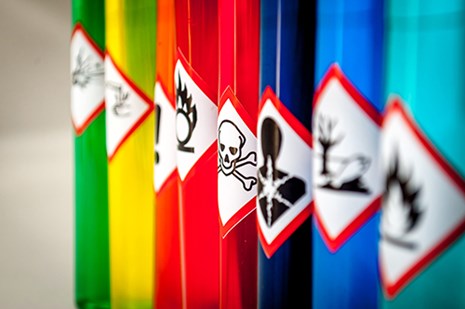 The difference between general cargo and dangerous goods must be determined from the beginning of the shipping process. Before packing your goods and planning your shipment, you must first determine the classification of goods to be transported.
While some goods are easily identifiable as dangerous, such as radioactive material, other products, such as dental apparatus, are less obvious. Shipping dangerous goods safely rely on your knowledge of the dangerous goods regulations and the goods to be shipped.
What Is a Dangerous Good?
Many regulations must be complied with when shipping dangerous goods, but you first must know what one is. Asking yourself, 'what is a dangerous good' is the perfect way to start at the beginning. It allows you to clearly understand what you are dealing with so that you can adequately address its needs.
Dangerous goods are articles or substances capable of posing a hazard to health, safety, property, or the environment and are shown in the list of dangerous goods in the IATA Dangerous Goods Regulations (DGR) or which are classified according to the DGR.
While many dangerous goods can be safely transported by air, provided the Regulations are complied with, some dangerous goods are so hazardous that they are completely excluded from air transport.
Why Safe Packing Matters?
Dangerous goods packaging is one of the most essential components for shipping dangerous goods safely by air. At the minimum, dangerous goods must be packed in good quality packaging, which must be strong enough to withstand the shocks and loadings normally encountered in transport. Additionally, depending on the danger of each dangerous good, there are different packing and packaging requirements. Some dangerous goods require a UN specification packaging that must have successfully passed specific performance standard tests; however, some dangerous goods with less danger in smaller quantities are permitted to be transported in other packaging.
By applying the correct packing method and appropriate packaging, the dangerous goods are securely contained, and the hazard is confined in the packaging.

What's the Importance of Dangerous Goods Marking and Labelling?
Dangerous goods marking and labelling are other critical factors when shipping dangerous goods safely. The marks and labels applied on a dangerous goods package assist in communicating the hazard contained inside the package when it is being handled.
Shippers are responsible for marking and labelling dangerous goods in accordance with the DGR. A typical dangerous goods package bears various kinds of marks, from the pre-printed UN specification mark indicating the performance standard that the packaging has been tested for, a handwritten mark by the shipper communicating the type of dangerous goods the package contains, to an affixed or pre-printed handling mark, such as the lithium battery mark.
On top of marks, labels are equally important. In the DGR, there are hazard labels and handling labels. Hazard labels are used to communicate the kind of hazard the dangerous goods contained in the package have, and handling labels facilitate the processing of the package throughout the journey.
All marks and labels required by the DGR have their own specifications, and it is crucial that they conform in shape, color, format, and size. Except as indicated, no variation is permitted, which ensures that we can universally understand the meaning of each of the marks and labels.
4 Ways to Transport Dangerous Goods by Air More Safely
IATA works stringently and continuously to ensure the safety of personnel, passengers, and aircraft. As needs change, they are ready to adapt regulations and best practices to help in shipping dangerous goods safely and efficiently. Here are 4 ways to transport dangerous goods by air more safely.
1. Follow the Latest Regulations
The best way to ship your dangerous goods safely, quickly, and cost-effectively by air is to follow the latest regulations. Strictly adhering to the most current regulations will save you time, money, and frustration from the troubles of not meeting the requirements.
Failure to comply with the regulations can leave your shipment held or rejected, causing a delay in your shipment. On top of rejected shipments, you may incur costly fines. In some countries, the local regulators penalize or prosecute shippers for transporting dangerous goods without complying with the DGR.
Where Do the Regulations Come From?
IATA's Dangerous Goods Regulations (DGR) are based upon ICAO's (International Civil Aviation Organization) Technical Instructions for the safe transport of dangerous goods by air and incorporate additional operational requirements.
Why Are Regulations Updated Every Year?
Because safety is IATA's number one priority, it is essential for them to stay abreast of laws, best practices, and recommendations as they change. Creating an updated manual annually ensures that stakeholders have the most current information to meet all the regulations.
2. Get the Proper Training
Dangerous goods must only be shipped by dangerous goods qualified personnel. Therefore, it is essential for shippers to receive appropriate dangerous goods training and be assessed. Personnel shall always be properly trained for their job function so that they are able to perform and comply with the regulations.
What Training Do I Need?
Depending on your job function, a wide variety of training is available in accordance with your needs. You can find specialized training for:
Those accepting dangerous goods consignments
Infectious substances transporters
Shippers and packers
Security screeners
Loadmasters and load planners
Instructors
And so much more.
Where Do I Get Training?
It is crucial that your training is extensive enough to ensure you are well-equipped to meet the regulatory requirements outlined in the IATA Dangerous Goods Regulations (DGR). All IATA training courses are specially designed according to the IATA Dangerous Goods Regulations for the safe transport of dangerous goods by air.
You can learn more about Dangerous Goods Digital Training and the Importance of Dangerous Goods Training or find information regarding how to obtain a dangerous goods certificate and the Dangerous Goods Training schedule.
3. Certify Your Operations and Staff
The CBTA (Competency-based Training and Assessment) accreditation ensures that an organization's training program meets the training provisions in the IATA Dangerous Goods Regulations, meeting their competence-based training and assessment approach.
What are the benefits of CBTA accreditation for the safe transport of dangerous goods by air? According to IATA's article 'What you Need to Know About the Competency-Based Approach to Dangerous Goods Training and Assessment?' they are the following:
Targeting function-specific training needs
Supporting continuous learning and performance improvement
Gearing towards learning rather than simply passing an assessment
Ensuring the integration of knowledge, skills, and attitude needed to perform a job at the required level of proficiency
Supporting the application of safety management systems (SMS); and
Establishing sufficient, well-trained, and competent trainers.
What CBTA Accreditations Does IATA Offer?
If you are interested in CTBA accreditation, IATA offers three options to meet the needs of your organization and staff.
The CBTA Corporate accreditation allows organizations that deliver in-house training to employees, such as airlines, airports, shippers, freight forwarders, and ground handlers, the opportunity to become accredited in IATA's Dangerous Goods Regulations training provisions under the competence-based training and assessment approach.
The CBTA Provider accreditation allows organizations offering training to clients the opportunity to acquire accreditation meeting IATA's Dangerous Goods Regulations (DGR) training provisions for various job functions.
CBTA Excellence accreditation allows organizations offering dangerous goods training and solutions services to clients the opportunity to acquire accreditation meeting their training design and development methodology and best practices.
4. Digitalize Your Operations
The fourth way to improve shipping dangerous goods safely by air is to digitalize your operations. Not only does digitalization bring your operations technologically up-to-date and saves on costs, but it can also help address safety concerns.
Why Digitalization Helps
Shipping dangerous goods safely relies on many factors, from dangerous goods packaging to filling out dangerous goods documentation appropriately. The Shippers' Declaration of Dangerous Goods (DGD) contains detailed information regarding a specific dangerous goods shipment that is used for communication throughout the shipping process.
With the comprehensive dangerous goods information on the Shipper's Declaration, accepting it manually leaves room for human errors. This especially holds true when considering the volume of shipments processed every day.
DG AutoCheck
Digitalization for dangerous goods has never been easier. IATA has created the DG AutoCheck, a digital solution allowing airlines, ground handlers, and freight forwarders to automatically check the compliance of dangerous goods safely and effortlessly.
DG AutoCheck simplifies the acceptance check that is required by international regulations. It accepts e-DGDs and scanned paper DGDs and checks the individual entries against the IATA Dangerous Goods Regulations. To avoid mistakes and oversight, all questions must be completed before the user is allowed to move on to the next section (e.g. completing the documentation checks before the package checks).
When a specific regulatory requirement cannot be met or requires human intervention, the system flags it to the user for further visual verification. Additionally, DG AutoCheck has the capability to export the dangerous goods information for users to prepare the notification to the pilot-in-command (NOTOC) and generate sophisticated acceptance and rejection reports for management.
DG AutoCheck not only can assist airlines and ground handlers in accepting dangerous goods shipments accurately and efficiently, but it also provides freight forwarders an opportunity to carry out their "pre-acceptance checks" before tendering the documents and packages to the airlines. The benefits of "pre-acceptance checks" are to eliminate any unnecessary shipment rejections, which subsequently could lead to delays or even a penalty fee.
DG Auto Check is being utilized by some leading airlines, ground handlers and freight forwarders across the world, such as:
Find out how to digitalize your dangerous goods operations
What Else You Need to Know
A multi-layer approach can be adopted for shipping dangerous goods safely. While ensuring you have selected the correct dangerous goods packaging and that your dangerous goods labels and marks comply with the regulations is of the utmost importance, you must take the necessary steps to get there. IATA dangerous goods training courses, CBTA accreditation, and DG AutoCheck, along with the IATA Dangerous Goods Regulations, are a few essential items that can help promote a safe transport environment of dangerous goods.