Introduction
The deadline for Competency Based Training and Assessment (CBTA) implementation draws near, and as the aviation industry recovers after the pandemic, this mandatory compliance should not be neglected. Butterfly Training (as IATA's first European CBTA Centre of Excellence) will be with you to help you with your CBTA journey. Starting with this short introduction to CBTA – it's development and key goals :
"Dangerous goods are articles or substances which are capable of posing a hazard to health, safety, property or the environment. Therefore, it is of critical importance that the individuals across the entire supply chain who prepare, offer, accept and handle these goods are properly trained to do so. " – IATA
IATA has made it mandatory for staff involved in the air transport of dangerous goods to receive training and be re-qualified every two years. The provisions on dangerous goods training have been in place for many years, and the most up-to-date information can be found in the IATA Dangerous Goods Regulations (DGR). In accordance with ICAO Annex 6 – Operation of Aircraft – dangerous goods training programs for aircraft operators' must be approved by the appropriate authority of the State of the operator, and some States extend this requirement to other entities, such as training service providers (in the U.K. and Ireland this is the case – both appropriate authorities have their own requirements and approval processes), shippers and freight forwarders.
In September 2019, the ICAO Dangerous Goods Panel (DGP) undertook the development of new proposed provisions and guidance material under a competency-based approach for dangerous goods training.
"The objective of competency-based training and assessment (CBTA) is to use the necessary tools to clearly establish the training needs for a specific job function and then ensure that employees acquire the level of knowledge and demonstrate the right skills to perform that function." – IATA
The adopted revised provisions for dangerous goods training to incorporate a competency-based training and assessment (CBTA) approach will become mandatory for dangerous goods training as of January 1, 2023. From then on, the traditional Category system which has been commonplace in DG training will disappear and be replaced by far more descriptive and tailored training modules which are built around the competencies required by individual trainees as part of their role.
3 reasons why dangerous goods training is important?
The successful application of rules concerning the transport of dangerous goods greatly depends on the appreciation by all professionals of the risks involved. Training is key to achieve a detailed understanding of the Regulations. Here are three reasons why:
Ensure health and safety: Safety is the number one priority and therefore dangerous goods training covers the proper packing, marking, handling, and transportation of dangerous goods to help ensure that these goods do not pose a threat to your staff, infrastructure or the general public. The entire supply chain of dangerous goods needs to ensure that they handle and ship these goods in a way that prevents risk or minimise it to as low as possible and acceptable.
Regulation compliance: Dangerous goods training provides standardisation and compliance which are paramount to ensure a safe cargo industry. Regulations are set by ICAO and regulators, while the IATA Dangerous Goods Regulations (DGR) manual is the global reference for shipping dangerous goods by air and the only standard recognised by airlines. These rules and best practices not only help ensure the safety of everyone involved, but they also help businesses avoid fines, customs delays and customer complaints.
Efficient operations: Airlines, ground service providers, cargo agents, freight forwarders and other key industry stakeholders rely on training and industry guidelines to ensure robust and efficient operations. In an industry where speed is key, ensuring that your staff is properly trained and avoid costly mistakes while complying with the current regulations as well as the latest best practices allow companies to benefit from efficiencies and cost reductions.
Butterfly Training makes obtaining dangerous goods training easy and accessible for everyone who needs it by offering both face to face and eLearning courses and which are updated annually with the international and national legislative updates so that trainees can stay up-to-date on the most current rules and regulations. Butterfly Training's desire to keep the aviation industry safe is the driving force behind ensuring the regulations are met, by adequately training all parties involved in the transport of dangerous goods . Whether you are a shipper, freight forwarder, cargo acceptance agent, cabin crew member or any role in-between, you can find up-to-date information on training for dangerous goods on Butterfly Training's website.
What's new in our CBTA compliant dangerous goods training?
While the framework of the training requirements in the ICAO Technical Instructions and IATA DGR has changed from category-based to competency-based, the principle of creating a competent workforce to perform their assigned function(s) has not. The revisions emphasise more on the importance of a person to be trained and assessed, and be able to demonstrate their competence. Previously staff were required to fit into a Job Role/Training Category, now the training fits into the staff members role.
IATA's Dave Brennan explains more on the changes from traditional to CBTA DG training.
While most of the changes should not have any significant effects on training programs, the following may be considered noteworthy:
the removal of the category-based training programme lists provided in Tables 1.5.A and 1.5.B; and
a shift in focus from requiring a single assessment at the end of a training course to verify understanding to requiring continuous assessment of competency.
https://youtube.com/watch?v=R4hPaRHTpb4%3Ffeature%3Dyoutu
Removal of Tables 1.5.A and 1.5.B
Tables 1.5.A and 1.5.B that can still be found in Appendix H.A of the IATA Dangerous Goods Regulations (DGR) match various categories of dangerous goods personnel with specific subject matter for which they should be familiar. While these tables are intended as guidance, they are often considered as mandatory requirements which contradicts the overarching principle of "commensurate with responsibilities" required of dangerous goods training curricula. This has led to the unintended consequence of training curricula being developed based on employee titles or positions instead of the functions they perform, resulting in some employees being trained on subject matter unrelated to the functions they perform while not being adequately trained on subject matter that is related to the functions they are assigned to. This approach is in complete contrast to the principles of competency-based training and assessment. By removing the tables, the need for employers to determine the type and level of knowledge, skills and attribute necessary to perform specific functions is reinforced and supports the requirement for employees to be trained competently to perform their function(s).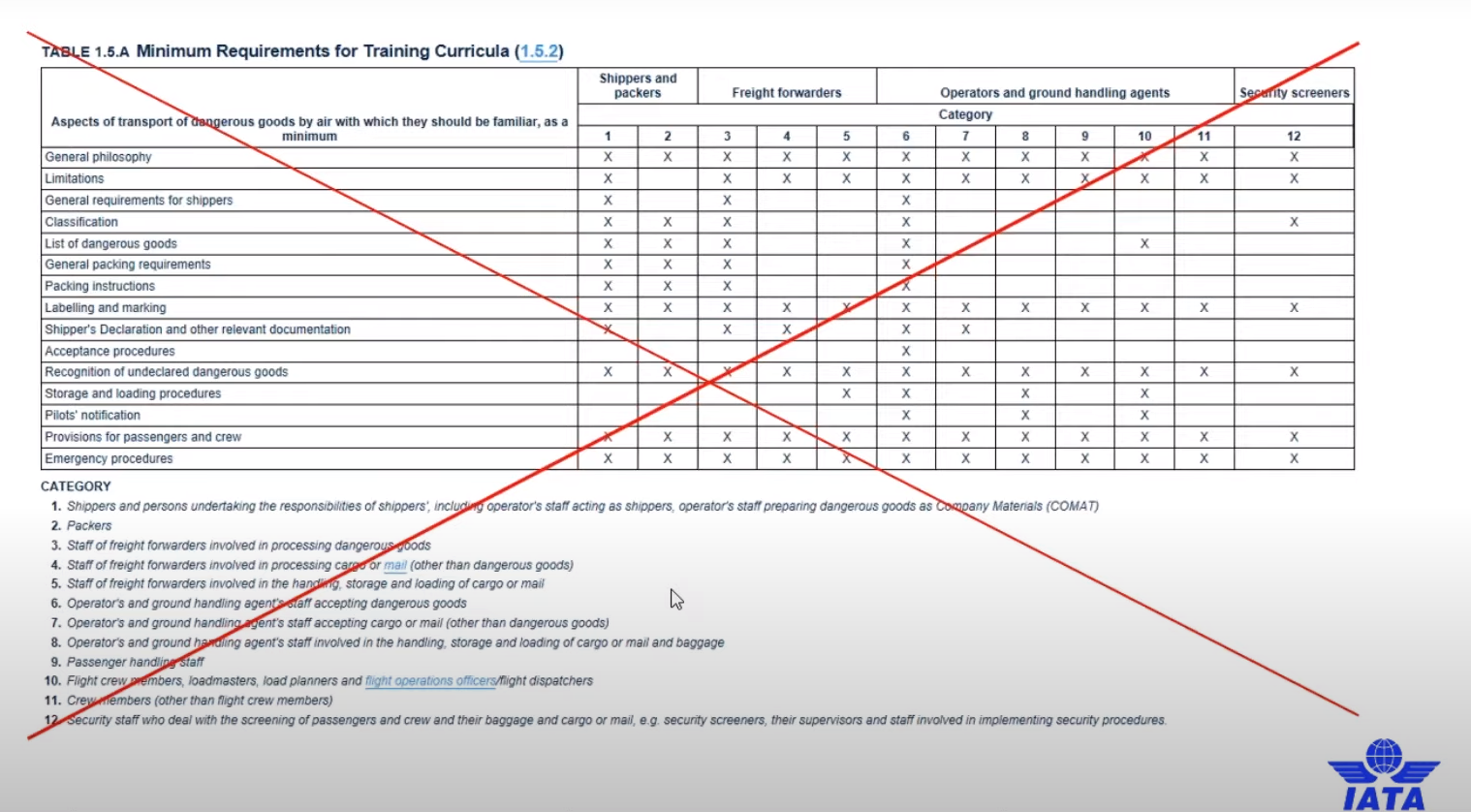 Continuous assessment of competency
The Technical Instructions currently require the provision of assessments following training to verify understanding. While this conventional approach is useful in determining the degree to which dangerous goods personnel may understand the material, it should not be the only activity that an employer employs to assess a trainee's competence in an assigned function. By applying a competency-based approach, standards of performance expected of personnel are established. Once established, these standards support the development of appropriate assessment to ensure that personnel not only understand the subject matter involved in their job, but also have the required skills and knowledge to carry out their functions in compliance with safety standards.
What is competency-based training and assessment for the air transport of dangerous goods?
The goal of competency-based training and assessment is to produce a competent workforce by providing focused training. It does so by identifying key competencies that need to be achieved, determining the most effective way of achieving them and establishing valid and reliable assessment tools to evaluate their achievement.
Concentrating on functions and responsibilities rather than a job title or description means that the training provided ensures that a person is competent to perform the function in compliance with Subsection 1.5. of the IATA DGR. For example, ground service providers may perform some functions that are related to handling of dangerous goods at the direction of operators. The ground service personnel must be trained to perform their assigned functions competently regardless of their job title.

The table above summarises the main differences from traditional training to the CBTA principles. Although CBTA has been mentioned in the regulations for some time already under current 1.5, the guidance material is more detailed and specific about the principles and elements of the approach.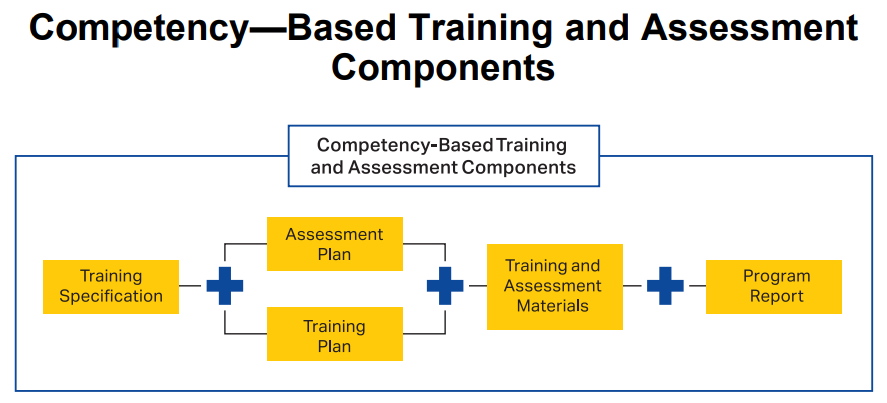 Therefore, the following components are essential for forming a competent workforce for the safe and efficient transport of dangerous goods by air:
A training specification that describes the purpose of training, the task list and the requirements that must be fulfilled when designing the training;
An assessment plan providing the process and tools for gathering valid and reliable evidence at different stages during training;
A training plan describing the training required to achieve the competencies;
Training and assessment materials, and any other organisational resources need to implement the training and assessment plans; and
A program evaluation report.
In the below video from IATA – Candy Chan (Manager DG Standards at IATA) explains the CBTA development process in more detail.
https://youtube.com/watch?v=axxT0_8lWoM%3Ffeature%3Dyoutu

What are the competency factors and levels of proficiency?
A competency is a dimension of human performance that is used to reliably predict successful performance on the job. It is manifested and observed through behaviours that mobilise the relevant knowledge, skills and attitudes to carry out activities and tasks under specified conditions to achieve a particular level of proficiency.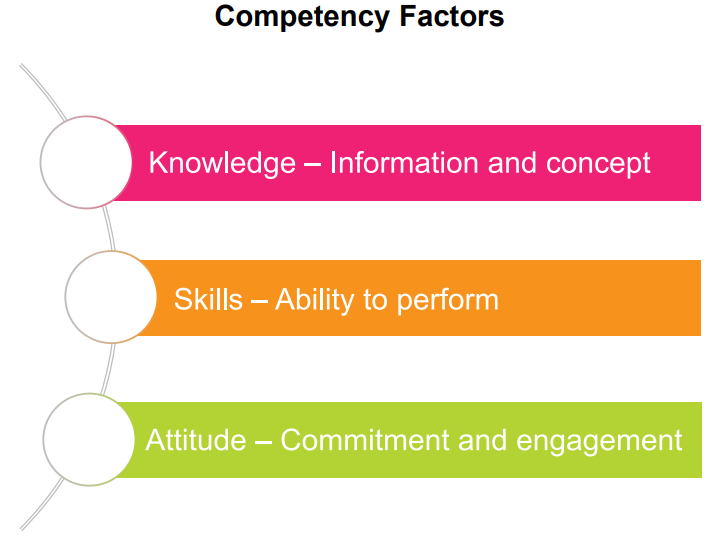 Performing a dangerous goods task may require different levels of knowledge, skills and attitude, depending on the complexity of the specific task and the operational environment. A level of proficiency should be developed to determine how critical the employee's knowledge, skills and attitude are for the successful completion of a task. Therefore, to determine the relevant level of proficiency of an employee's competency factors, the employer should consider the complexity of tasks and context, the range of work (routine, predictability, and dependencies) and the level of autonomy of the employee in performing the tasks.
Proficiency can be divided into four levels, introductory, basic, intermediate and advance, and applied to individual tasks involved in the function(s) that an employee is assigned to.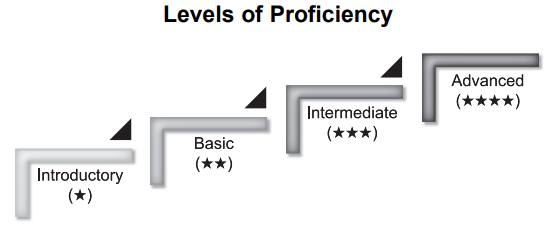 You can learn more about the principles of competency-based training and assessment by contacting us for a free of charge introductory call.
What are the benefits of competency-based training and assessment for the safe transport of dangerous goods by air?
The main benefit of a competency-based approach to training and assessment is its potential to encourage and enable personnel to reach their highest level of capability while ensuring a basic level of competence as a minimum standard. This is achieved by:
targeting function specific training needs;
supporting continuous learning and performance improvement;
gearing towards learning rather than simply passing a test;
ensuring the integration of knowledge, skills, attitude needed to perform a job at the required level of proficiency;
supporting the application of safety management systems (SMS); and
establishing sufficient, well-trained and competent trainers.
Ensuring personnel can competently perform their functions is critical to any organisation. A competent workforce can not only reduce cost caused by unnecessary shipment rejections or delays and miscommunication of job expectations but also improve safety by reducing the number of wrongdoings associated with incompetent performance. Therefore, from a business standpoint, you can easily associate six benefits to competency-based training and assessment:
Cost effectiveness
Efficiency
Increased productivity
Improved profitability
Reduced risk
Increased customer satisfaction

How to develop a competency-based training and assessment program?
Establishing competency-based training and assessment programs can involve five phases, analyse, design, develop, implement and evaluate. Here is a brief summary of each phase:
Analyse training needs: The first phase in the development and implementation of a competency-based training and assessment program is to analyse the training needs. Analysing the training needs is very important because the needs identified will form the basis of the type(s) of training and assessment methodologies to be required. Training needs are specific to the employer's environment and requirements, largely dependent on the internal process flow.
Design competency-based training and assessment (CBTA): Analysis of the training needs will form the foundation of the competency-based training and assessment program, and this phase will develop the backbone of the program. This phase includes designing two major components based on the training specification produced in the previous phase:- an assessment plan that will be used to assess the competence of trainees;
– a training plan that will enable the development and delivery of the training course.
Develop the training and assessment materials
In this phase of developing and implementing a competency-based training and assessment program, the training designer will have to develop the training and assessment materials based on the training and assessment plans derived from Phase 2. Typical training and assessment materials include training notes, student handbook, case studies, presentations, video clips, examinations, practical exercises and on-the-job-observations.
Train in accordance with the training and assessment plans: When the training and assessment materials are well prepared, the training designers should determine the facilities and equipment, and training and assessment personnel required to conduct the training as planned. For the core dangerous goods training course(s), the course instructor will be the training and assessment personnel. In the cases where third-party training service providers are partnered with, the facilities and equipment for conducting the core dangerous training courses may already be included in the solution offered by the service providers.
Evaluate the training and assessment program: The employer is responsible for ensuring the effectiveness of the training program. At the end of a period of training, feedback from the trainees, and training and assessment personnel should be gathered to deter-mine the effectiveness of the training and assessment program in supporting the progression of learning towards competence in the workplace. Evaluation of the training should be based on valid and reliable evidence such as course results, trainee feedback, reports from other training and assessment personnel, audit reports, and occurrence reports. This evaluation may lead to changes or improvements being made to the competency-based training and assessment design. Either the employer or their appointed assessor is responsible for evaluating the effectiveness of the training program. If this responsibility is outsourced to an appointed assessor, this person should be made familiar to the company's process in developing the whole program from the very first phase.
You can find more details about each phase of this workflow by requesting a review of your current training practices with one of our local CBTA representatives.
How to get started with competency-based approach to dangerous goods training and assessment?
We can expect two major positive impacts from the implementation of CBTA:
closer involvement of the employer in determining the needs and measuring performance in a more precise way;
an increase in employee's engagement as a result of a closer correlation between the training content and job performance assessment.
We at Butterfly Training recognise the challenges facing many customers to transform their current dangerous goods training program to a competency-based training and assessment framework while keeping up with the industry standards and we are happy to help in any capacity that you would like us to be with you.
We look forward to working with you on CBTA.
Written by Allan Whyte – Certified Aviation Security Instructor (U.K. and Ireland)